The BOI and Informa Markets are ready to organize SUBCON THAILAND 2023, the most important regional business matching event aiming to uplift Thailand as ASEAN's hub for procurement and subcontracting of industrial parts.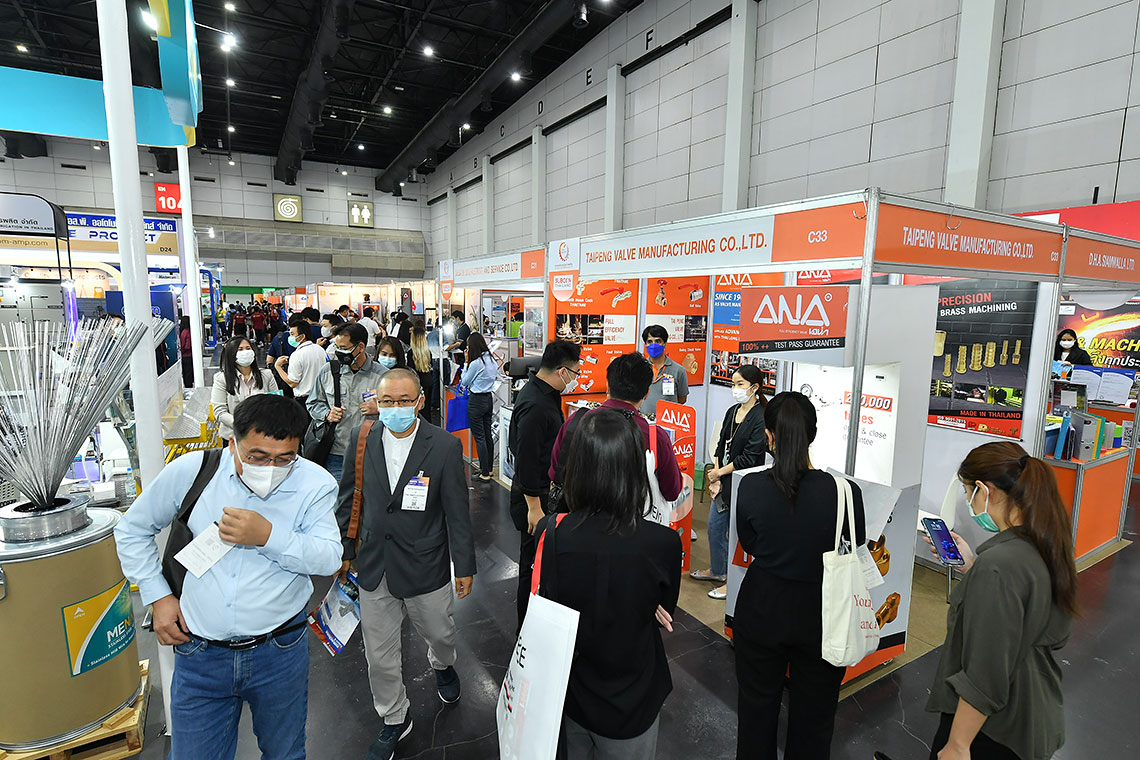 SUBCON THAILAND 2023, the most important regional business matching event, is preparing to open a stage to show the potential of Thai manufacturers and be the meeting point for manufacturers and buyers from around the world. The show is expected to host more than 4,000 business matching pairings. This major event will take place from 10 to 13 May at BITEC, Bangna.
February 7, 2023: Today, modern digital technology is considered an important equation in reforming the Thai industrial sector to be able to compete on the global stage, particularly in the use of advanced production technology to increase the capability of the manufacturing sector including research and development to create new innovations. The Office of the Thailand Board of Investment (BOI), is the main agency in setting investment promotion strategies for Thailand along with the Thai Subcontracting Promotion Association and Informa Markets, one of the leading international trade fair organizers jointly co-organizing SUBCON THAILAND 2023. The show has been held for 17 consecutive years with the aim to establish Thailand as ASEAN's procurement and subcontracting center for quality industrial parts.
Miss. Sonklin Ploymee , Deputy Secretary-General of The Thailand Board of Investment (BOI) said that "For more than 16 years, BOI has been organizing SUBCON Thailand continuously, with outstanding support from the government and private sectors. This is an important ASEAN regional forum that brings together manufacturers, buyers and supply chains in the business sector in industrial parts both domestically and internationally in one event. The goal is to establish Thailand as a procurement and subcontracting center for quality industrial parts in the ASEAN region. This is also an important meeting point for those involved in the part procurement industry from around the world to meet with manufacturers, Thai dealers and entrepreneurs especially through business matching. This helps to create new opportunities for the future of the Thai industrial sector, such as targeted industries (New S-curves), in line with the BOI's five-year investment promotion strategy (2023-2027) to restructure to Thailand's "new economy".
"The last edition of SUBCON THAILAND, the show provided many business opportunities between Thai entrepreneurs and buyers from around the world. There were 1,982 business matching pairs, resulting in business transaction value that would occur in the future of 7,222 million baht. For SUBCON THAILAND 2023, we continue to highlight our strengths in gathering more quality parts manufacturers both domestically and internationally to participate in the show. At the same time, there will be a BUYER'S VILLAGE zone or an exhibition area that gathers world-class parts buyers to showcase quality parts and provide information and purchasing policies that correspond to the global context. There will be also exhibition zones for innovation and technology showcases from industrial clusters, including rail systems, medical equipment, aviation and logistics, national defense, automation systems, and next generation automation, etc. At the show, there will be seminars to educate and add new skills that prepare Thailand for new target industries (New S-Curve). The show's highlight is the regional business matching program. It is expected that this year around 4,000 business matching pairs will be arranged creating a business value of more than 10,000 million baht. This will stimulate the country's investment, support recovery and also strengthen the Thai economy in the future." Miss. Sonklin added.
Mr. Methawat Sethachindacharoen Deputy Director of Project Management, Informa Markets Thailand, said that "We are delighted to have been a part of SUBCON Thailand for more than a decade. This is an important region purchasing industrial parts event that offers a variety of opportunities especially for the targeted industrial groups that the government is focusing on. This year, "Subcon Thailand 2023" will be held in parallel with the full-scale "INTERMACH 2023" on an exhibition area of 28,000 square meters, with more than 500 leading companies from 10 countries attending. It is expected to attract over 45,000 trade visitors to participate at this year's show. There will be more than 50 interesting seminar topics organized by network partners to educate and connect opportunities for Thai entrepreneurs to keep up with the competitive world of industry in the future. This will not just be the 4.0 era, but more, moving towards the industry 5.0 era.
Step into a major transformation in the industrial world with the most important regional business matching event. This is the meeting point for manufacturers and buyers and industrial supply chains from around the world that you should not miss - at SUBCON THAILAND 2023.